Catch up with events you may have missed, and find out what we thought about them.
Please let's have your views!


April 1st TABLE SHOW - Classes: Catfish (G, H), Siamese Fighters (I), Rasboras (J), Danios (K), Loaches (L), (Any Other Tropical Egglayer (M)
March 18th NO CLUB MEETING
March 4th TABLE SHOW - Classes B, C, D, E, F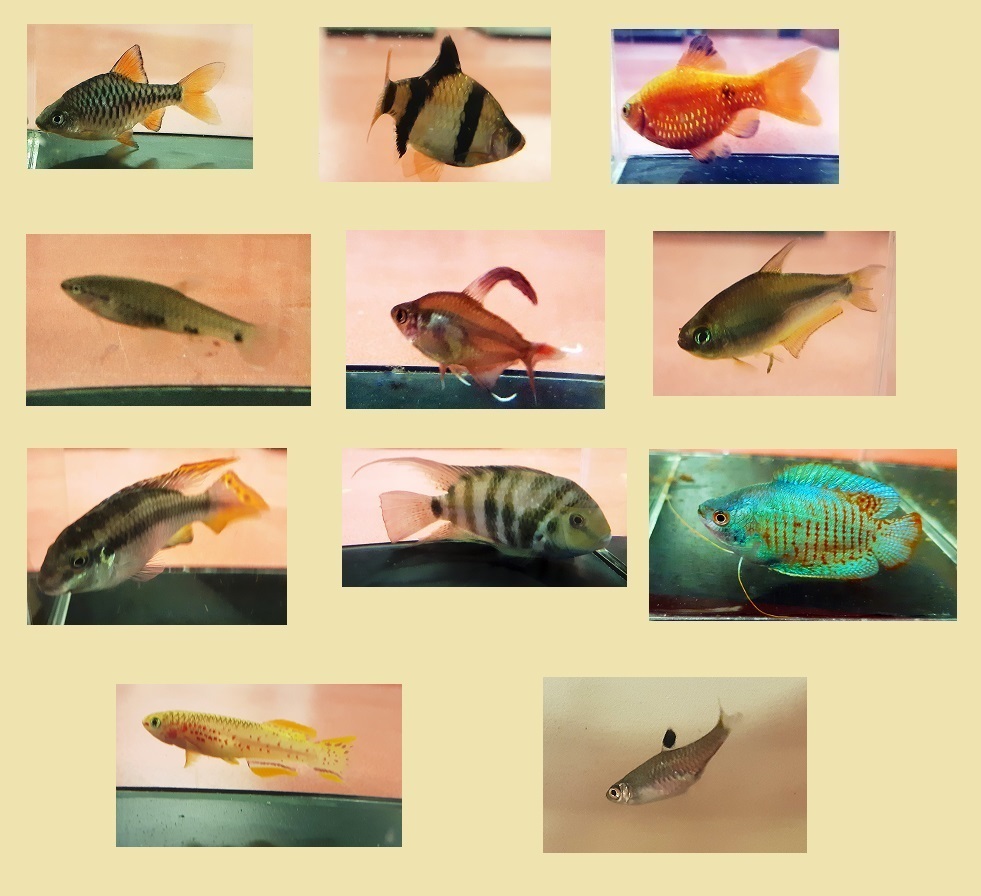 The first Table Show of the year attracted nine
competitive entries (and all won a Card of some
denomination) plus an 'unknown species for anyone
to identify. Whereas the Judges fulfilled the first
requirement successfully, the mystery species remained
unidentified! Maybe someone will offer a suggestion soon.
One thing was established, it's not a Rasbora because it lacked barbels.
Apologies for the varying quality of the photos, someone's
got a new smartphone and the camera's taking a bit of time
to get used to!
Sadly, we were without our Secretary Greg, who 'reported sick
prior to the meeting; we wish him a speedy recovery and, no,
he hasn't been to China recently!
Investigations are in progress about using 'The Crooked Billet'
at Iver Heath for our Annual Dinner. Watch the website for details,
as we will be missing a meeting next time.












February 19th GARDEN PLANTS
There's no escaping Pete, he enthusiastically took us through his other interest away from fishkeeping -
life on his allotment. Whether it was spuds or fuchsias, Peter brought his alternative interest alive
with colourful pictures and stories to the delight of his listeners, Looking back, I think the only
shot of anything nearly aquatic was the Lily Pond at the Royal Horticultural Society's Gardens at Wisley!
February 5th PRACTICAL REPAIRS
Well, one of the speakers was there except that he wasn't! Peter couldn't make it (which was a
double blow as he was bringing some malfunctioning equipment to work on, as well as presenting!)
but the audience were not denied the subject matter planned for the evening. An FBAS Video,
just happened to feature both the same subject, together with the same two presenters. I suppose
nobody actually noticed the difference in the end!
January 22nd Lucky Dip Slide Show
Aquatic activities were the alternative to trying to guess fish species' identities in this Slide Show.
The activities chosen by Pete involved the many Festivals which have been staged by the FBAS over recent years.
It was very entertaining as people struggled to identify some of the almost long-forgotten venues. Happy Days!
January 8th WHAT'S IN THE CUPBOARD?
It's almost tradition noew to 'unclutter' the cupboard and get the New Year off to a tidy start!
Whilst this surprisingly-entertaining task was taking place, a mini-Committee meeting was occurring
in the kitchen to bring Greg up to speed on his likely role in the Club's forthcoming year.
The only sad thing about the whole process was to see much of our Library consigned to the recycling bins.
That's the way the internet crumbles, you might say.
December 14th CHRISTMAS GET TOGETHER
For a number of reasons, it was decided to have a scaled-dwon Christmas get-together this year with Dick and Janet
kindly offering to act as hosts. A very convivial gathering occurred from lunchtime onwards and the fact that numbers
were not as high as usual meant that everyone could converse together and not miss out on things.
Also, there was less of a queue for the scrumptious refreshments!
November 27th ANNUAL GENERAL MEETING & Fish 'n Chip Supper
A rather sombre view of the year hung over the AGM what with personal losses, declining membership
numbers and concern over the future of the Club's Open Show and so on.
Fortunately, the most immediate concern was resolved when Greg offered
to be Secretary; the ensuing Fish Supper was all the more satisfying after
that decision had been made!

November 13th CLOSED SHOW AWARDS NIGHT & Review of the Year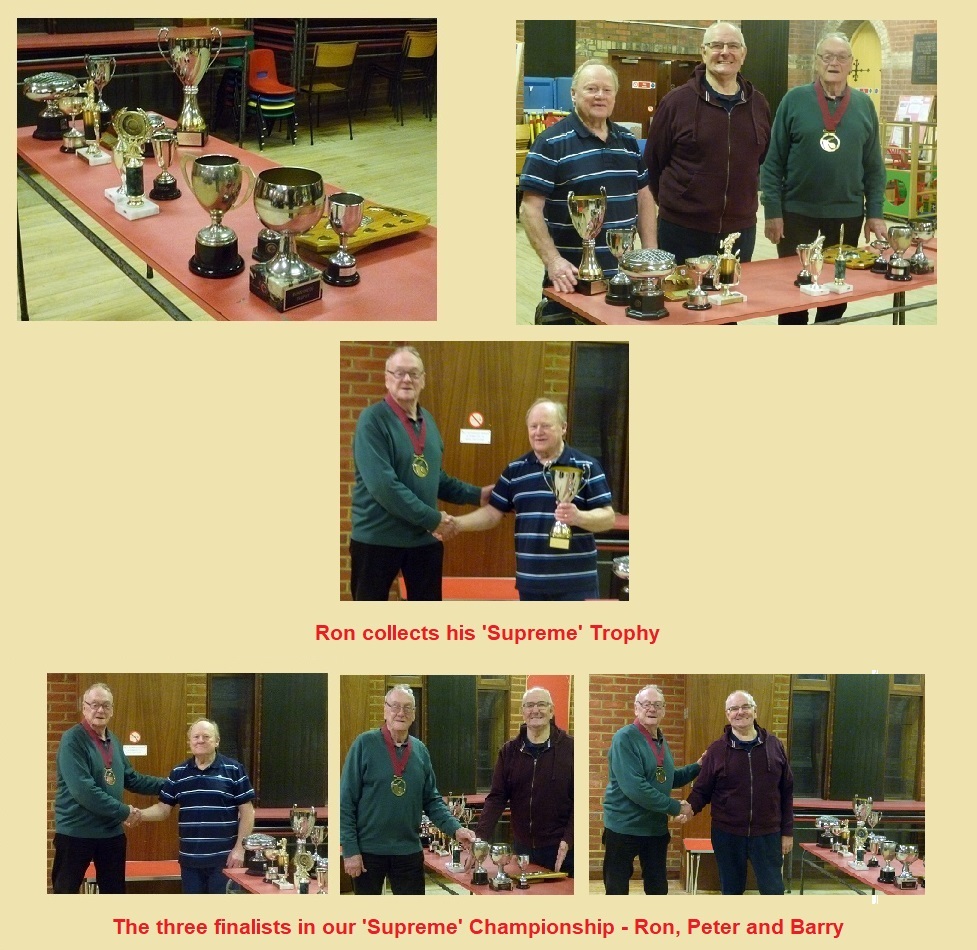 The end of our competitive year drew to a close with
our own version of the Supreme Championship.
All card-winners from our internal Table Shows were
eligible to do battle for the coveted Supreme Champion title.
Although the exhibitor entry was down this year, the
quality of the fishes lived up to expectations and the
eventual winner was Ron's magnificent Harlequin.
Much rummaging in the trophy box ensued on the night to
cover all Classes and, with one or two exceptions, we got
there in the end!
Peter and Dick jointly produced a Review of the Year, one
dwelling more on the Chairman's aquatic activities both at
home and abroad (Germany and the Isle of Wight) whilst the
other concentrated on the Club's diverse activities during
the past twelve months. culminating in the sad loss of Peter Quested.



















October 30th 2020 Programme Planning
Surprisingly, this was not the usual downbeat evening everyone was dreading although it had a rather lopsided structure.
All of the time leading up to the tea-break was taken up with topic suggestions - step forward, Greg, whose idea for a
Club visit to the London Aquarium met with great approval. After the break - faced with a rapidly contacting timescale,
we raced through all the usual suspects and managed to set up the skeleton of what looks like a promising 2020 for the Club.
October 16th Madeira Video
This evening saw another substitute programme and, following a pre-tea general discussion period in which
next year's Open Show (including possible venues) was the main subject - we all flew out, courtesy of an FBAS Video,
to the Atlantic island of Madeira. The variety of the flora and aquatic fauna was much to the fore - and there was
even a dry land sledge ride included.
October 4-6th FBAS Finals Weekend
A number of members attended this replacement event organised by the Island Fishkeepers Society on the Isle of Wight.
The weather was kind-ish and the Fish Show elements were efficiently run with the Society's own Open Show kicking off
proceedings on the Saturday alongside the British Open and the Club Challenge Finals.
A Hounslow highlight was Ron taking a first with his Honduras Redpoint cichlid.
On Sunday, the climax was the Betta Show,the Pairs and Breeders Finals plus
the Grand Final to select the Supreme Champion from the FBAS Trophy Class
winners throughout the year.
The Thorness Bay Holiday Park was comfortable and well-appointed but locating one's
accommodation proved a challenge for most of us due the site's sheer size and
dwindling daylight. Everyone thought it was a good effort and look forward to
another visit next year.
Sadly, the shine was soon taken off all happy memories of the Weekend with the news,
a few days later, that Peter Quested had passed away. Everyone offers their condolences
to Hanne and family at this tragic time.

October 2nd CLOSED SHOW
This new format of the Closed Show somehow failed to live up to expectations. In order to cut down the time consumption of
a large entry, the qualifications were limited to Card-winners from the year's Table Shows. Even so, this resulted in no less
than nearly thirty entries from the three exhibitors, Ron, Barry and Peter. Come the end of a long evening (thanks Spike for
taking on the Judging) it was all of a scramble to prize-give and debench, with both phases being almost exclusively observed
and/or appreciated by the three participants - not exactly a happy end to a hoped for highly-competitive evening.
In the light of this, the result of having a low number of exhibiting members (from a low membership base, admittedly)
may affect our outlook on the importance or emphasis that is placed in Table Shows in our yearly programme.
Even so, we should salute the achievements of the three
combatants, and congratulate Ron on his production of the
Society's first internal 'Supreme Champion!







September 18th Guess What This Is
We might spend hours looking at our fish, but do we take in what we're actually seeing? Peter's quiz put this to the test.
Fragments of pictures of different fishes and other aquatic-related pictures tested not only the visual but also memory
powers of members, who strove to think 'Where have I seen that before?' A slightly different take on the usual quiz format
and one that keppt us guessing all evening!
September 10th INTERCLUB TABLE SHOW AT BRACKNELL
Well, we might have won the battle, but we lost the war!
Thanks to some great fish on the bench, we managed to
beat Bracknell 26-23 in a tense, down to the wire contest.
Sadly (and probably predictably) we lost the overall
3-stage contest but we all agreed we had enjoyed some
great evenings along the way
Final Scores: Bracknell 62, Hounslow 51 and Mid-Sussex 13.
Thanks to all who participated, in whatever capacity



















September 4th BRING 'n BUY
Thanks to Ian's Facebook Hounslow information page, there were some extra faces at this Autumn bring 'n Buy.
As usual, the 'merchandising' on offer ranged from bargain basement to top of the range objects of interest.
Simon became 'model of the evening' demonstrating almost everything from Wellies to Underpants!
Great fun all-round, much to the Club's financial benefit.
August 21st SEE YOU LATER, ALLIGATOR!
This was a challenging evening! Not only was there a last-minute substitution of subject matter there were also technical problems too -
first the programme stopped dead two-thirds through and (and more vitally) the very broad American accent of the commentator
appeared to often be incomprehensible through our sound system! Even Dick and Janet, who featured in the video, had trouble recalling
what the speaker said. However, we hope everyone got some interesting facts about Alligators in the process.
August 7th TABLE SHOW. Classes: PAIRS & BREEDERS
Again, entries in the Table Show were dependent upon a couple of brave souls but the diversity of species was as wide as ever.
Pairs appeared to be better patronised than breeders but as we traditionally hold these Classes at this time every year -
whilst many members are on holiday - perhaps we should not automatically assume that nobody is raising fry any less than usual.
July 24th BREEDING TECHNIQUES - General Discussion)
Not quite the X-rated evening some might have been anticipating and not a single 'heavy-breather' to be seen! Our 'Battle of Waterloo' box-style
formation of seating made face-toface discussions that much easier and there was a lot of useful tips and tricks bandied about.
Peter Anderson, Dick and Simon had each brought along a selection of breeding devices and post-breeding food dispensers, home-made and aquatic
dealer bought. There is apparently a lot of aquatic ingenuity still to be found in some aquatically-connected garden sheds!
July 11th INTERCLUB TABLE SHOW at Mid-Sussex: Classes H (Corydoras), S (Limias, Mollies), T (AOS Livebearers) and W (AOV Coldwater inc WCMM)
A greaqt social evening, excellent hospitality from the Hosts, Mid-Sussex. Peter Anderson thoughtfully provided an entertaining Quiz Sheet and
the evening ended in a win (as expected) for Bracknell (17 points) with us being pushed down into 3rd Place (10 points) by Mid-Sussex (13).
Cumulatively, the two Legs' Totals stand at: Bracknell 39, Hounsow 25 and Mid-Sussex 13. The next Leg is at Bracknell on September 10th.
A fun evening, only spoiled by the M25 being shut at J9 on the way home!
July 10th TABLE SHOW: Classes U (Singletail Coldfish), V (Twintail Goldfish) W (AOV Coldwater inc WCMM)
A rather disappointing turnout of coldwater fish on the Bench, with only Ron bringing along a couple of (albeit previously prizewinning)
fish for the Table Show competition.
The rest of the evening was taken up with general discussions covering such subjects as the Club's Invitation to visit Laleham Photographic Club
for an evening of fish photography, plus some inward reflections on possible candidates for the upcoming vacant Secretary and Treasurer positions.
I leave you to guess which subject drew the most interest!
We were all kind of pleased for an early night, after this apparent non-event.
June 26th CONSERVATION OF LIVEBEARERS by Nigel Hunter
Back to normal again, with a tremendous audience gathered to listen to how natural fish stocks (and their habitats) are being threatened
with extinction. This sadly-illuminating presentation focussed on Goodeid species in Mexico and opened with the disturbing news that the
work of Fish Ark Mexico, pioneered by Iavn Dibble, Derek Lambert and Mervyn Strange, has ceased to be effective. Nigel described the Group's
efforts over many years to conserve so-called 'extinct-in-the-wild' species by captive aquarium breeding and begged aquarists not to let the
remaining fishes just fade away.
With the abundance of some species readily available, it is all too easy to forget that lesser-known species are so perilously close to disappearing.
A sobering presentation indeed. We thank visitors from Bracknell and Mid-Sussex Clubs for coming along to show their support for this worthy cause.
June 19th RIVER DIP.
Due to lack of likely support - and maybe a deterrent in dubious weather conditions during the run up to the evening, it was prudently decided to cancel this event.
June 12th TABLE SHOW. Classes: D (Cichlids), L (Loaches), M (AOS Tropical Egglayers), O-T (Livebearers)
This turned out to be a two man Show, with just Pete and Barry contesting for honours. At least each Class had an entry!
June 1st HDAS OPEN SHOW
It never rains but pours, but .... Just a week or so before our big event, we learned that the venue was not available! That's all you need.
However, through Joe's intervention, we managed to transfer to the Rose Community Centre in Brentford. Not only that, we managed to make
sure that all likely exhibitors were made aware of the switch by use of our website and the FBAS website.
Despite all the pre-Show worries, we actually had a great Show with 236 entries - with excellent weather, sterling work by our Ladies in the
refreshment line plus one of fastest 'breakdowns' you have ever seen! Thanks to everyone - Exhibitors, Judges, Club Mambers and visitors
who made it such a success.
May 29th The Mysteries of pH and Water - Ron Allen.
Everyone agrees that there's nothing better than a guest speaker, and so those of us who had heard Ron's previous version of this
apparently-technical subject would go down well with the rest of the Club. He didn't disappoint.
Various properties of water - whether in gaseous, liquid or solid forms - was explored, uncovering in the process plenty of unknown facts.
Ice, and also atmospheric frozen water such as hail surprised people most of all. However, whilst water is usually thought of as a fish's
'atmosphere,' it also forms a huge proportion of our own bodies as well as being a major ingredient in a multitude of household cooking
recipes and cleaning agents! Lots of diverse contributed substances, from table sauces to cleaning fluids, were examined by Ron in a
practical demonstration period that still left the audience wanting more. A great evening, with a twist on a subject we all thought we knew about!
May 15th INTERCLUB TABLE SHOW with BRACKNELL: Classes Characins (C), Fighters (I), Any Other Species Tropical (M) Wild Platies (R)
As usual, it wasn't the result that counted (well, Hounslow would say that wouldn't they?) but the enjoyment of a social evening involving like-minded folk.
Good food, good companionship - who could ask for more?
The result - Bracknell 23 Hounslow 14 - was never in doubt, as Hounslow could not cover the Wild Platies Class, so it was inevitable that we would not win
despite both Peter Anderson and Ron Allum taking first places with their Amamda Tetra and Siamese Fighter respectively. On the Bracknell side, Terry Hewitt
and Keith Sollitt were Class winners in Wild Platies and Any Other Species Classes. The'also-rans' - fishes not chosen for the actual InterClub Classes
were displayed together in a non-competitive viewing group so that they could be appreciated for being brought along.
It was good to see Bill and Iris back again after their brief health setback - the only thing that marred an otherwise great evening was the problems parking!
As keenly anticipated, the Ladies provided a superb spread of refreshments - not a lot was left to take home for our respective foxes.
May 1st TABLE SHOW: Classes Characins, Fighters, Rasboras, Danios
It's interesting to see how the difference in species
entered in the Table Shows reveals the tastes of the
exhibitors when it comes to keeping fish. For instance,
whilst Barry was a dominance in the first Table Show,
he simply doesn't keep the species qualifying in the second.
So keep a lookout when you see the exhibitors change and see
if you can predict their favourites!
The discussion side of the evening was taken up with a discussion
over the Club Dinner and whether to change venues next time,
and the planned different staging layout (and the Judges'
reactions to it!) for the Open Show.
By the way, please read the Calendar of Events carefully -
our speaker at the end of the month is Ron Allen from
Portsmouth and not Ron Allum from Langley!












April 24th ANNUAL DINNER
It looked as though we were back to our very first time at the Fountain, with all the disorganisation of paying the bills at the end.
Add to this, the extremely slow (almost non-existence) of the bar service and the application of the wrong prices to everyone's meals
(two extra sausage and mash dishes and a side of onion rings also made an unexpected appearance on the list) and you'll be forgiven for
thinking our Dinner was a disaster. In fact, the food itself was simply great but we'll be discussing the implications at the next meeting no doubt.
April 17th BRING 'n BUY. Also please return Dinner Menu choice Forms by this evening.
Compared to its previous history, this Spring's Bring 'n Buy hardly got off the ground and anybody betting against
an early night would have lost their stake money. However, in usual style, the event provided a good source
of entertainment and distirbution of useful aquatic bits and pieces.
With Simon not in attendance, it was left to Angie and Ian to provide actual fishy lots. Hanne reported how good
our display at the Farm has turned out (still not quite complete) which is a pleasing verdict.
Menu Order Forms were duly returned for our Annual Dinner next week, Janet says thanks for making her job
that much easier ahead of our jolly evening.
April 3rd TABLE SHOW. Classes: Barbs (B), Gouramies (E), Killifish (F), Catfish (G, H), Any Other Tropical.
Note that this Table Show includes an extra Class - Barbs (B) - to make up the loss of a Table Show evening earlier this year.
The first qualifying round for our
version of a mini-Supreme Championship
(aka Closed Show, later this year) saw
ten entries spread over five Classes
appear on the Show bench.
Ian and Spike brushed off the cobwebs in
their Judging prowess with the results
coming in record time!
Reports were given on our nearing completion
of our display at the Hounslow Urban Farm, with
particular praise for Colin's magnificent information
panels. Peter Anderson outlined the proposed layout
plans for the Open Show benching area which, we hope,
will encourage and permit easy access throughout the
Show for the visiting public. Flyers will be displayed
ahead of the Show at the Farm's display too.








March 20th LIVE FISH FOODS presented by Roxane Dunbar.You'll be surprised at how big a menu you can offer to your fishes!
Clearly 'under the weather,' Roxane made the long journey from Plymouth to give her presentation on Live Fish Foods,
including details not only how her Company evolved but also how her large choice of live foods can satisfy every fish's
needs no matter what stage of life it is at - from birth, growing up and right through to conditioning for breeding.
There was a fair interchange of ideas and practical advice flowing to and fro throughout the evening and Roxane was
kind enough to bring along samples of food for members' fishes too. We hope she recovers to better health as swiftly as possible.
March 6th TABLE SHOW - Classes B (Barbs), C (Characins) and D (Cichlids). You may also bring along
any other species fish for 'evaluation purposes' but whilst it will be judged it will not receive any
Award Card. Note too that only Award Card winners from Table Shows will be eligible for entry
into our Closed Show later in the year.
Whoops! The unavailability of our Judges meant a quick side-step into something completely different!
Instead, we swapped a wet winter's evening in Hounslow for the sunnier climes of Singapore as we revisited
the 2005 Aquarama Aquatic Trade Show.
Of equal interest, on a subject much mearer to home, we were given a preview of the artwork, depicting Club
life that Colin has created for our Society-supporting display at the Hounslow Farm.Once the 'in-progress'
information panels are completed we will have a wonderful long-running live advertisement which, hopefully
will attract some extra members. Thanks to all comncerned in this venture.
Next meeting we have a very special Guest Speaker - Roxane Dunbar who will be explaining all about Live Fish Foods.
Please arrive on time so we can make a prompt start.
February 20th KILLIFISHES - Ian Glaubes
If you can't manage (for whatever reasons) to keep a marine tropical aquarium, then your next best bet
for a magificent display of really colourful fishes (in probably much less space and certainly at much
less cost) would be Killifish.
The superb presentation by Ian Glaubes was filled with
information with plenty of additional personal experiences
thrown in from the members of the audience, who have already
discovered the attractions of this often ignored Family of fishes.





February 6th THE REAL SLIDE SHOW - no gimmicky digital nonsense, actual film slides in lamp-lit
projectors with all the attendant risk of dropping a fully-laden slide carrier on the floor!
Not quite the Pandora's Box(es) we were expecting, or dreading. From original fish houses,
species indentification, and Club activities all nearly sprung to life again for the interest
and amusement of the assembled members. Everyone seemed to have their memory jogged by some of
the slides and, of course, the projectionist was smart enough to include several old favourites -
upside down slides! One main lesson was learned - despite some aversion to the digital age, one
cannot deny the new way of showing pictures is a whole lot more convenient! At no time were any
slides harmed during the evening's progress.
January 23rd LUCKY DIP SLIDE SHOW
The lights dim, the tension rises, what will the slide be and will I know the answer? Not quite as
tense as an Agatha Christie novel just a sense of ambarrassment at being put on the aquatic spot.
A lot of good humour soon dispersed anxieties and the evening resolved into one of information and
entertainment - all you could want at a typical Club night.
And, as a bonus, we had Yonik drop in to join us too. Every little helps!
Januaray 9th GENERAL DISCUSSION - Fish I Keep
Agood proportion of the early evening was taken up with discussion centred around the Club's
involvement with the new aquatic display area evolving at the Hounslow urban Farm.
This will be credited to the Society (and hopefuly be an attractive advertisement for new members)
and is very much the brain child of Joe Nethersell, with active support from Simon Taylor and the
rest of us. Mention was also made of Simon's intended online aquatic sales Club, again something
which will draw attention to both Hounslow and the FBAS. On the subject of Fish I Keep, Dick managed
to dodge the issue by asking for anyone's experience in dealing with online aquatic plant suppliers
as refurbishing his three tanks is next on his agenda, the difficulties being the range of plants
being limited by import restrictions. Ron reported progress on the ongoing installation of the
tropical pond in his garden - and we're all waiting for the invitation to the opening ceremony,
probaly when the weather gets a bit warmer!
December 12th CHRISTMAS PARTY
The question everyone's asking is where on earth did 2018 go? The year went by so fast, we almost forgot to enjoy it on the way!
As can be seen by the accompanying photos, a goodly number of members turned up for our annual Christmas Party,
but we were disappointed that Peter Quested couldn't make it due to not feeling quite right on the day.
Also, our friend Nigel, from Reigate & Redhill, also failed a 'fitness test' and had to decline to join us.

Due to lack of breeding registrations, there was no 'Breeder of the year' to crown but
Ron simply wiped the floor with our exhibiting members by a stupendous score.
Equally-deserving in gaining the Member of the Year Award was Simon for his
drive and enthusiasm - and a little thing of designing and masterminding our
Tropical Pond Installation at this year's Festival of Fishkeeping.
Special mention must be made of the Ladies' contributions to the evening -
great food from Janet, Sylvia, Marion, Hanne, Iris, Angie, Wendy and Chrissie,
with Hanne and Sylvia also distinguishing themelves in the Photographic Competition.
See you all in January, 2019!
November 28th ANNUAL GENERAL MEETING plus Fish 'n Chip Supper
A great attendance - which shows us that members have no fear of turning up for an AGM! As usual, the formalities were processed
with almost indecent speed so that the 'main course' of the evening could be enjoyed at leisure.
However, along the way came both sadness and pleasure. Both Peter Quested and Kem Marriott announced that 2019 would be their
last as Officers of the Club but this news was tempered with the pleasure at gaining an 'new member.'
In recognition of his contribution to the hobby and his organisation
of all the Festivals of Fishkeeping over the years, the Club welcomed
Joe Nethersell as a lifetime Hornorary Member.
Thanks were extended to Spike and Dick for the Fish 'n Chip Supper
service and notice was given that the Christmas Evening is looming -
prizes for the Game (and the Raffle) will be welcomed as will be photos -
Fish, Landscapes, Fun, Animals.






November 14th CLOSED SHOW AWARDS NIGHT & REVIEW OF THE YEAR
A fully-packed evening on all fronts. Clive and Matthew were back with us although Spike, Peter and Hanne couldn't make it.
Joe Nethersell dropped in to run through his plans for Hounslow-supported Furnished Aquariums at the Hounslow Urban Farm.
We kicked off with Chairman Peter Anderson showing some of his 2018 activities, including visits to Germany and to the
Wisley Flower Show.
Following the tea break, the Closed Show Awards
were presented; this year we did something
different and distributed the Awards 'en bloc'
to their respective winners with just a single
photo covering everyone involved.
Then, Ashby took us on a trip to Sentosa Island
in Singapore with its fabulous aquarium sights on view.
To complete the evening, Dick showed a video of this
year's Final Festival of Fishkeeping, much of which
featured Hounslow's tropical pond attraction.
We can only hope that 2019 will be as eventful and
produce another entertaining Review of the Year.
---
Hounslow's Recommended Top Shops
---
Last updated March, 2020

You can contact us for latest Hounslow Society information at